Some time ago I've presented into a post how to deploy Azure VMware Solution (link here). Now I would spend some time looking at what are the triggering events of implementing AVS, how it looks the Solution and most important, what are the benefits of this solution.
Azure VMware Solution provides for a scalable and automated infrastructure to operate in a data center agnostic world supporting rapid deployments and enabling developer productivity and agility by leveraging latest industry trends.
Business need
Solution
Benefits
Migration simplification for workloads from on-premises to Azure VMware Solution.

Data center consolidation, decommissioning or expansion

Application Modernization

Disaster Recovery and Business Continuity

Microsoft extended-support for End-of-Support products
Azure VMware Solution combines VMware compute, networking, and storage running on top of dedicated bare-metal hosts in Microsoft Azure.

AVS core capabilities are provided by vSphere, vCenter, vSAN, NSX-T, and HCX. These core capabilities can be extended with VMware services provided by VMware products that have been certified with AVS.

Migrating virtual machines into AVS is facilitated through VMware HCX.

AVS can be managed, monitored, and automated with the vRealize portfolio products.

Networking extensions are available from NSX Advanced Load Balancer and VMware SD-WAN.

VMware Horizon on AVS is the supported cloud virtual desktop solution.


Personnel skills on VMware investments retained their value in the cloud, allowing the organization to avoid hiring additional personnel for their cloud skills or reskilling current personnel.

IT personnel tasked with updating, provisioning, and maintenance tasks for their VMware environment's on-premises infrastructure reclaimed time as workloads were moved out of
the organizations' data centers to Microsoft
Azure. In some cases, nearly 100% of the time
spent on these tasks is eliminated.

Organizations avoided overprovisioning for peak demand via the scalability of the cloud and Microsoft Azure. As the organizations continued to expand on Azure, avoided hardware refreshes, extended security
updates, and ultimately decommissioned
infrastructure yielded additional cost savings.

Business-impacting downtime was nearly nonexistent while application performance was increased as a result of Azure's high-end, up-to-date computing infrastructure.

Forrester modeled a range of projected low-,medium-, and high-impact outcomes based on evaluated risk. The financial analysis projects that the composite organization accrues the following three-year net present value (NPV) for each scenario by enabling Microsoft Azure VMware Solution:

• Projected high impact of a $7.22M NPV and projected ROI of 274%.
• Projected medium impact of a $5.41M NPV and projected ROI of 205%.
• Projected low impact of a $3.28M NPV and projected ROI of 125%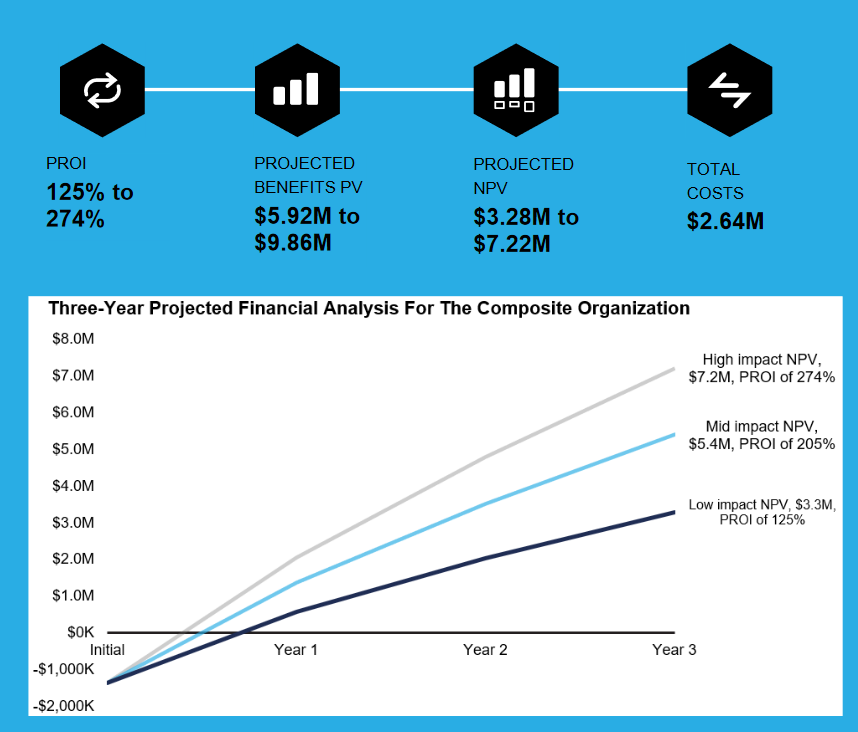 Source: Forrester