At VMware Explore Europe it has announced the latest VMware Aria offering: VMware Aria Hub Free Tier; and I'm more than excited knowing I will test it soon.
VMware Aria Hub powered by VMware Aria Graph
The VMware Aria Graph technology anchors all core VMware Aria multi-cloud management solutions, including VMware Aria Cost™ powered by CloudHealth®, VMware Aria Operations™, and VMware Aria Automation™. It also powers a set of end-to-end multi-cloud management solutions for use cases such as multicloud governance (VMware Aria Guardrails™), application migration (VMware Aria Migration™), and troubleshooting (VMware Aria Business Insights™), all available via the unified experience and workflows of VMware Aria Hub.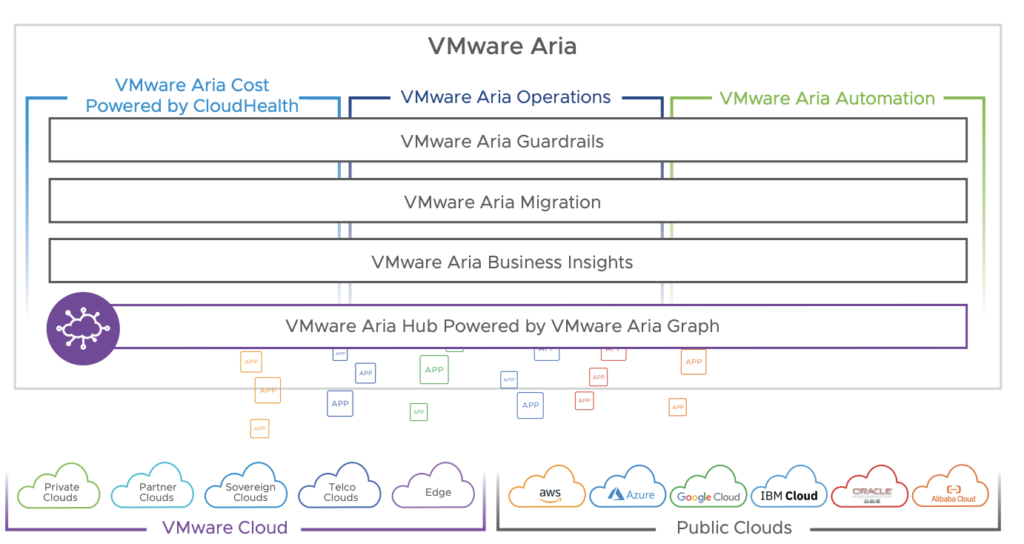 VMware Aria portfolio has 3 main verticals – Cost, Operations and Automation. However, below you can see how those relate to existing products:
VMware Aria Cost powered by CloudHealth (formerly, CloudHealth)
VMware Aria Operations (formerly, vRealize Operations)
VMware Aria Operations for Networks (formerly, vRealize Network Insight)
VMware Aria Operations for Logs (formerly, vRealize Log Insight)
VMware Aria Automation (formerly, vRealize Automation)
VMware Aria Automation for Secure Clouds (formerly, CloudHealth Secure State)
VMware Aria Graph is powered by GraphQL instead of REST. GraphQL is an open-source data query and manipulation language for APIs, and a runtime for fulfilling queries with existing data.
Overview
What is VMware Aria? Formerly vRealize Cloud Management, is a single platform with a common data model unifying applications, infrastructure, and services across private, hybrid, and public clouds. VMware Aria products are available on premises but also as SaaS in different combinations to deliver the right capabilities for each business needs.
Imagine one of the following scenario: you are embracing a multi-cloud strategy having two or more cloud computing platforms and you need:
perform various tasks (e.g. apply consistently policies, use new services to improve the performance of applications)
take important decisions (e.g. which type of cloud offering would likely be a best fit for your app development)
These, and not only, can be quickly addressed by VMware Aria Hub. Below is a view from Aria Hub home page, a view customized for an application owner showing favorite applications, cost, security and compliance, availability, performance, and more.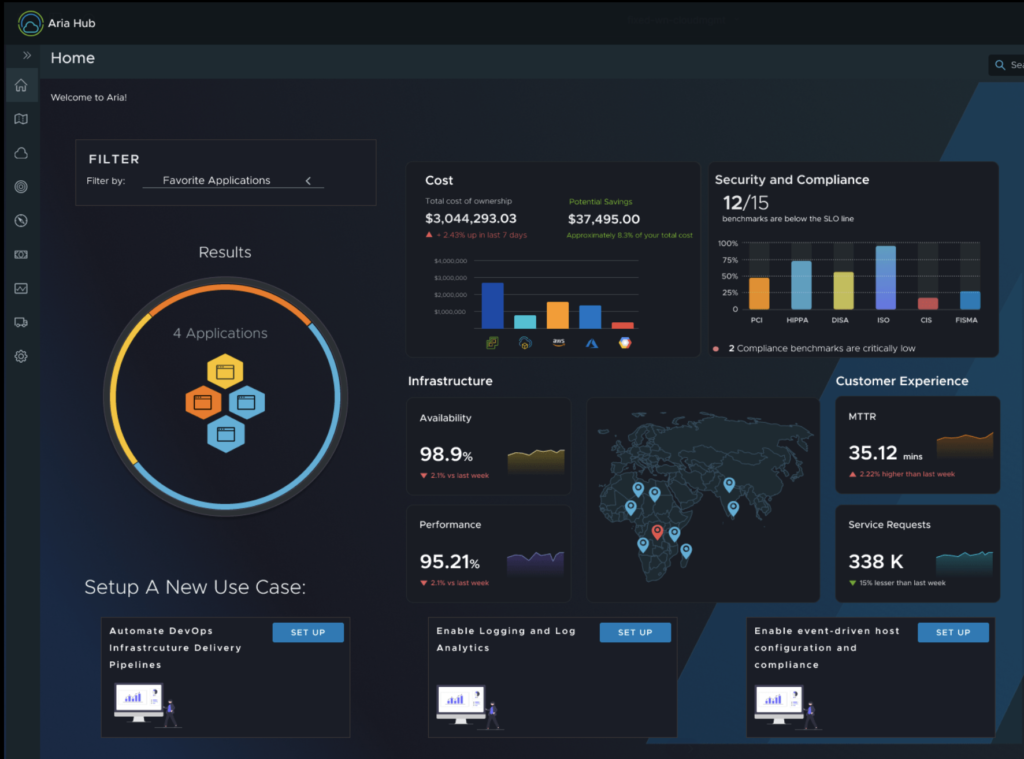 Source: Aria Hub Vision Demonstration
Now with the power of Aria Graph, VMware was able to introduce a set of new powerful cross-cutting solutions that cut across the disciplines of cost operations and automation. The first one that is available (in preview) is Aria Migration.
Aria Migration
Aria Migration is a service that allows total cost of ownership analysis, sizing, planning, and execution of migration of workloads to the cloud. Now, the entire migration process is simplified by having 3-step path:
Assessment – discover services, app tiers and VMs of application but also identify the flow between apps;
Planning – Machine Learning (ML) driven process to understand app boundaries, app migration complexities, and dependencies;
Migration – Automated migration waves of workloads at scale using vRealize Network Insight Toolkit with VMware HCX;
Below you can "taste" a demonstration showing the migration of VMs to VMware Cloud on AWS.
Note: All screenshots are coming from Aria Hub Vision Demonstration mentioned above.
The graph has been updated to show that VMs on the selected VLAN are communicating with VMs in some of the excluded VLANs. Since there are known dependencies with other VLANs, a choice needs to be made to either exclude the VLAN or include dependent VLANs.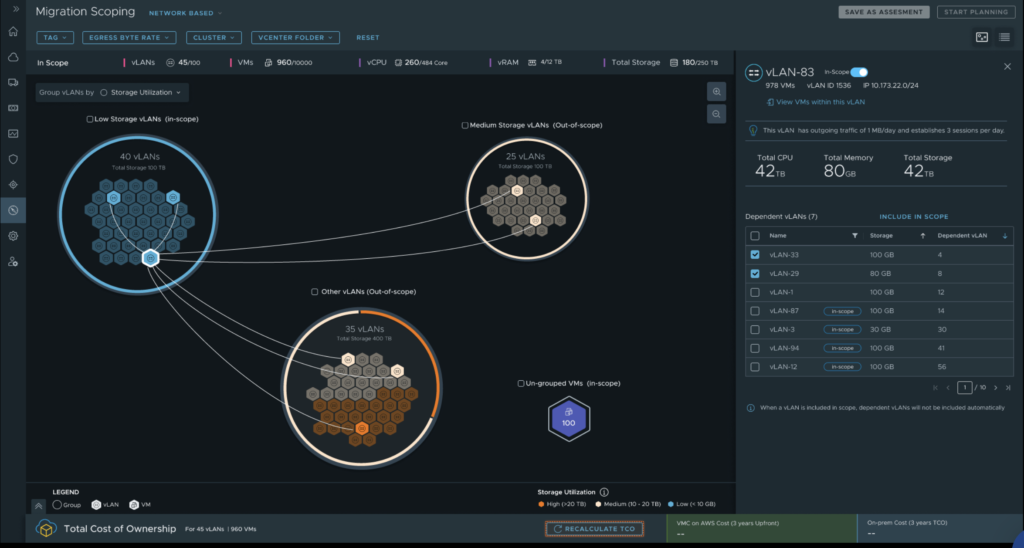 If we look at the Total Cost of Ownership (TCO) of the migration we can see the page was updated to show a TCO comparison of VMware Cloud on AWS vs. on-premises, how many hosts are needed (23), the recommended host type (i3), and the projected utilization of the hosts.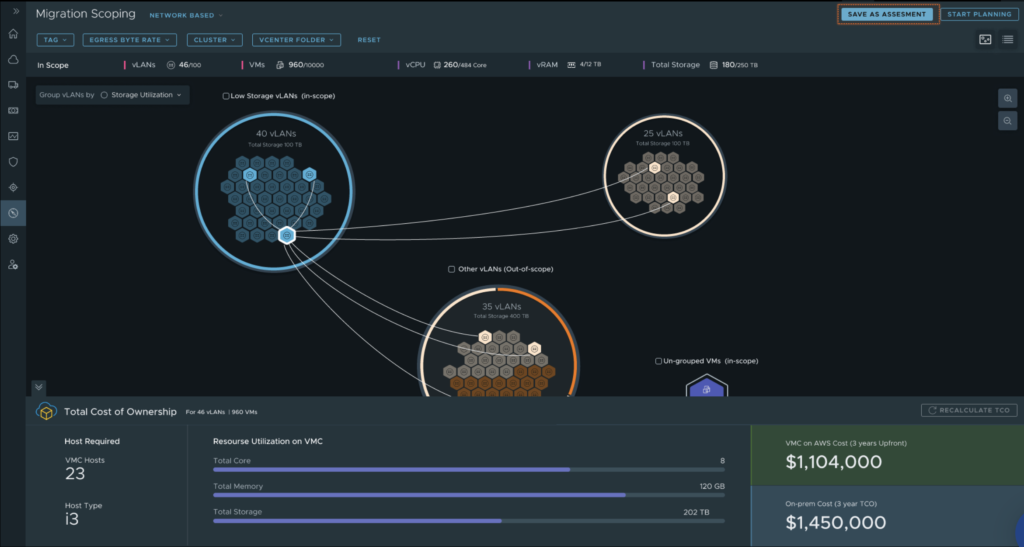 Moving to the migration phase we'll notice the migration wave will be broken up into smaller buckets.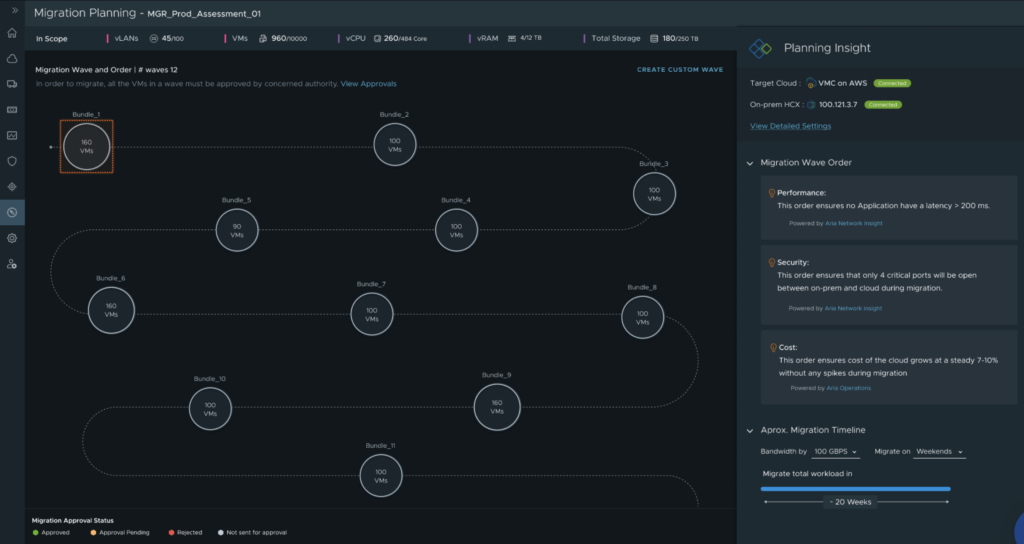 The right side shows the VM owners, resource utilization, and any related insights. By clicking Send for Approval you'll notify the owners and ask for their approval for the migration.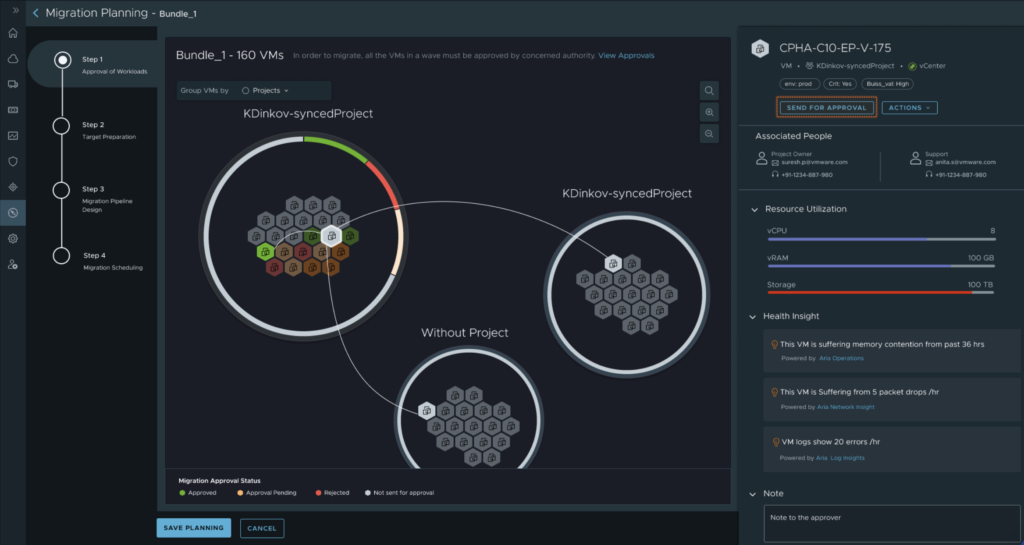 Now you can control the placement of the migrated VMs. Existing Cloud Zones can be selected automatically, or selected manually, or a new cloud zone can be also created.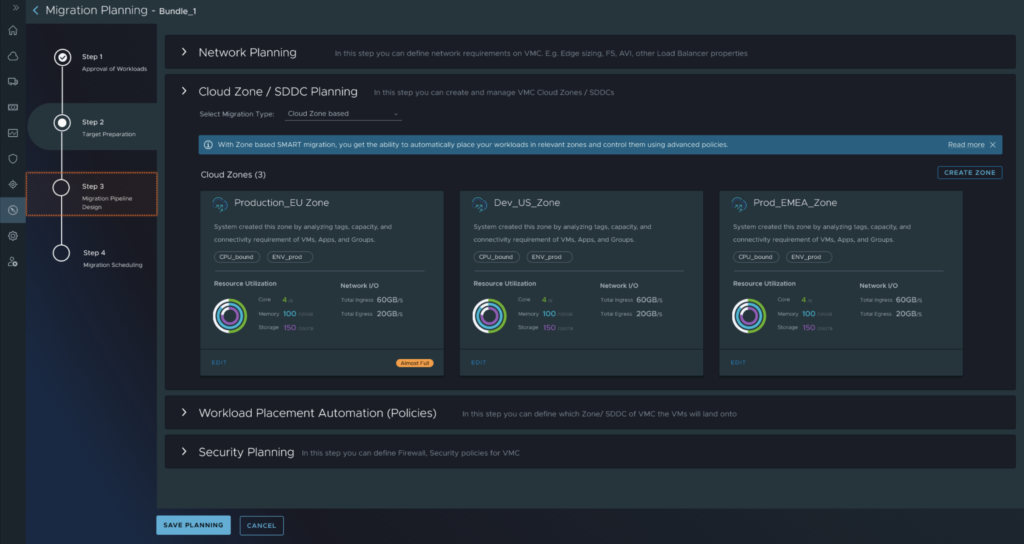 The next step (Step 3) shows the migration pipeline that is powered by VMware Aria Automation Pipelines. The pipeline is customizable and can be extended to perform actions like opening and closing a change control or performing tests after the migration is complete.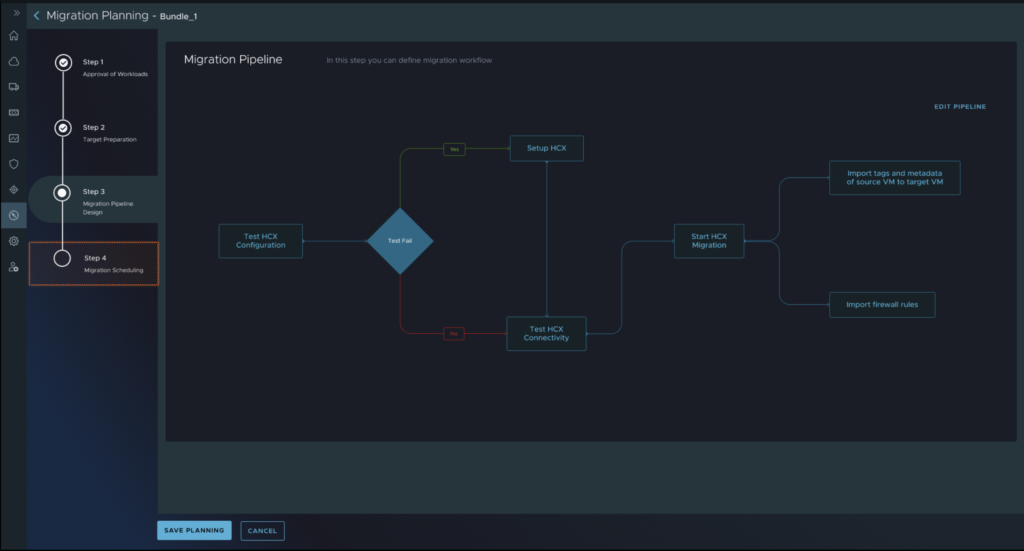 The last step covers the scheduling of the migration. In the example below, the migration is configured to run 12 hours per day and is projected to take 4 days to complete.
You will be able to see a performance comparison of before and after the migration:
Aria Operations for Network shows that packet drops were 5% before and 2% after the migration.
Aria Operations shows CPU contention reduced from 3% to 2%
Aria Operations shows the workload was compliant before and after the migration
Aria Operations for Logs shows there was no error log messages before and after the migration
VMware Aria has been designed to address the emerging cross-cloud and cross-discipline management challenges customers are increasingly encountering as they continue to adopt native public clouds and cloud native applications. VMware Aria is helping the customers with multiple cloud environments seeking to modernize or rationalize their existing portfolios; they now have various target clouds options to choose from when migrating an application or workload. By understanding the characteristics of the target cloud from a cost, performance, and security perspective and comparing it with other cloud options is dependent on having a map of the relationships of all the objects and workloads across those cloud environments. This is precisely what VMware Aria's new datastore – VMware Graph – is designed to do.